From the favela to a future in finance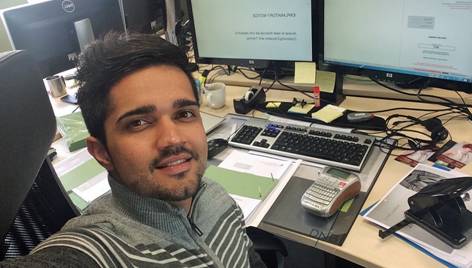 A hardworking mother and good forces in DNB (Norwegian bank) have brought Rafael Lima out of poverty in Rio de Janeiro. Rafael's journey has taken him to the other side of the earth: DNB Luxembourg.
"Luxembourg is completely different to what I am used to. Here there is better economy, education and health care. And here I can gain experience that will be of great use later", says the 28-year-old Brazilian.
A better future
The one-year commitment in DNB Luxembourg is a result of the NGO Dream Learn Work's program, which was created by Norwegian companies in Brazil with DNB as a key supporter. The program gives young people, who are growing up in poor neighbourhoods, the opportunity to create a better life through education with professional guidance.
Rafael had a dream of becoming a flight attendant. But then he had to learn English, and it is no easy matter when growing up in favelas, poor neighborhoods of Rio de Janeiro. The career path for many in Rafael's situation is to become a drug dealer.
Worked hard
"My mother has been very active on helping me to create a good life for myself. She has worked hard to make money so I could get an education and learn English well. You do not learn good English in public schools in Brazil", he says.
He even worked at McDonald's and in a pharmacy to fund schooling. Then, his mother heard about Dream Learn Work when she was a housekeeper for a Norwegian family. She realized that this could be the chance Rafael needed.
Valuable experience
Rafael then became a mentee, having the leader for DNB in Brazil, Arne-Christian Haukeland, as mentor. Soon he had completed a technical course in Administration, but ended up as a cashier at an exchange office.
"When I arrived at DNB Luxembourg, I decided to get Rafael here on a three-week internship. It would give him valuable experience and help him find a better job in Rio. That happened last summer", says Arne-Christian.
"At that time, we had a lot to do in connection with auditing, and Rafael worked with our compliance team. He did such a good job in the three weeks that our compliance officer asked to keep him."
Well received
After receiving a work permit, Rafael returned to the Grand Duchy of Luxembourg last year, in November, this time in a year's engagement. In addition to the compliance job, he has had tasks for HR and asset management units.
"Everyone has been very welcoming to me, and I certainly feel that I'm part of the team. To me it is very unusual that there is no hierarchy as in Brazil. Here, everyone has contact with each other and I can talk to the boss like everyone else", says Rafael.
He lives 40 minutes away by train and does not have friends around him like home, in Brazil. But he has no leisure problems:
"I live in the middle of Europe, close to everything, it's easy to travel to France or Belgium. And I get to study English!"
Stronger profile
What happens when his stay at DNB in Luxembourg is over, he does not know at the moment. Most preferably he wants to find something there, but he realizes that it will be demanding. Nevertheless, Rafael will place a lot stronger on the job market in his home country with the year in DNB on his resume.
It is also the main intention of Dream Learn Work. Now he has gained a lot of experience and it opens up new opportunities.
Everybody is a winner
"Rafael does a great job with us and gets help to make a better life for himself. This is a story where everyone is a winner," says Arne-Christian Haukeland.
And what does Rafael say about the flight attendant dream?
"I have been traveling and I have experienced other countries and cultures. Now I want to work in a bank, even when I get home!"
Original, by Egil Erlandsen