Learning how to dream bigger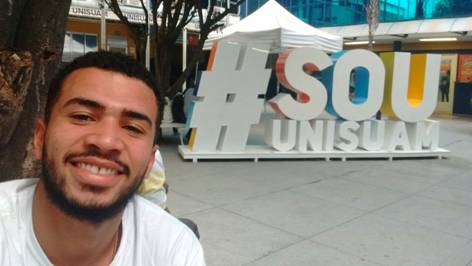 Wendell, our participant recruited by Project Karanba, recently got a scholarship to Electrical Engineering at UNISUAM. We talked to him in order to have a better understanding of this moment in his educational path.
Dream Learn Work: How did you come to the decision of studying Engineering?
Wendell: When I started studying about Electrical Systems, everything was new to me. I thought I would end the course and become an electrician. However, this first contact made me like this field even more. I took other courses, including Electrotechnics, which showed me I could advance in my professional career studying Electrical Engineering.
DLW: What is your dream?
W: My current dream is to finish my course and graduate from college, to work in a big company, to be financially stable and to have my work my acknowledged.
DLW: How did you feel when you found out you had gotten a scholarship?
W: I didn't believe it. When I took the exam, I wasn't very confident—I didn't believe in myself, I thought I didn't have what it took to be approved. When I got the results and saw I had been approved, I thought it was a lie. I just realized it was real when I enrolled. This day was one of the happiest ones of my life, because it was a great achievement to my family and me.
DLW: What is your impression of college so far?
W: This first period has been hard to me, because the routine in college is different from the one I was used to. I studied in public schools and attended high school classes at night, so today, in college, I miss some subjects I didn't really learn. However, I am working hard to catch up on lost time.
DLW: How and when do you envision yourself in ten years?
W: I picture myself being financially stable, having my own house and working at a high position in a multinational company, most importantly being able to help my family.
DLW: What is your advice for other young Brazilians who are beginning their educational path?
W: I would advise them not to wait for opportunity to strike. In any course, work hard. Always try to be the best you can, because hard days and difficulties will always exist, but remember that your dream is much more important than any struggle.
DLW: What is the secret to choose correctly a dream and a career to follow?
W: I think the secret is to do a lot of research, to try to find what you really like and not what everybody else is doing. Even if you don't fit the criteria for a certain job, if it is truly what you want, give it a hundred per cent to reach your goal and become a great professional.