Marielle Franco (27 July 1979 – 14 March 2018)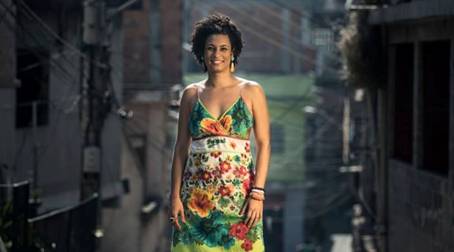 "I have written this passage a week after the assassination of Marielle Franco on March, 14th 2018, the initial emotional shock and sadness had eased and I could grasp what had happened. I met Marielle in 2017, a very courageous woman, Brazilian politician, feminist and human rights activist. She was an outspoken critic of police brutality and extrajudicial killings of young people in favelas, as well as a voice for many victims, including policemen and their families. Her priorities were to the minorities, fighting for gender equality, for the LGBT community and against social disparity. She was a role model, a symbol to a lot of people, but especially to black favela women, as she was raised in Maré – one of the communities Dream Learn Work recruits from – and was elected as city councillor of the Municipal Chamber of Rio de Janeiro in 2016. She is a story of success, having studied at a free preparatory school in the favela, being admitted into one of the most prestigious private universities in the country with a scholarship to study social sciences and earning a master's degree in public administration from the Fluminense Federal University. She came from the slum, got a degree and a masters, was elected and worked hard to include the excluded. Her legacy will live on. I will never forget her!"
Ana Luiza Carboni-Brito, General Manager, Dream Learn Work.
In 15 months at City Hall, she presented 16 bills. Two of them were approved as concrete laws: one on "moto-taxi" regulation, an important means of transport used in favelas, and another on city hall contracts with social health organizations, frequent targets of investigations into corruption.
Marielle present, today and always!